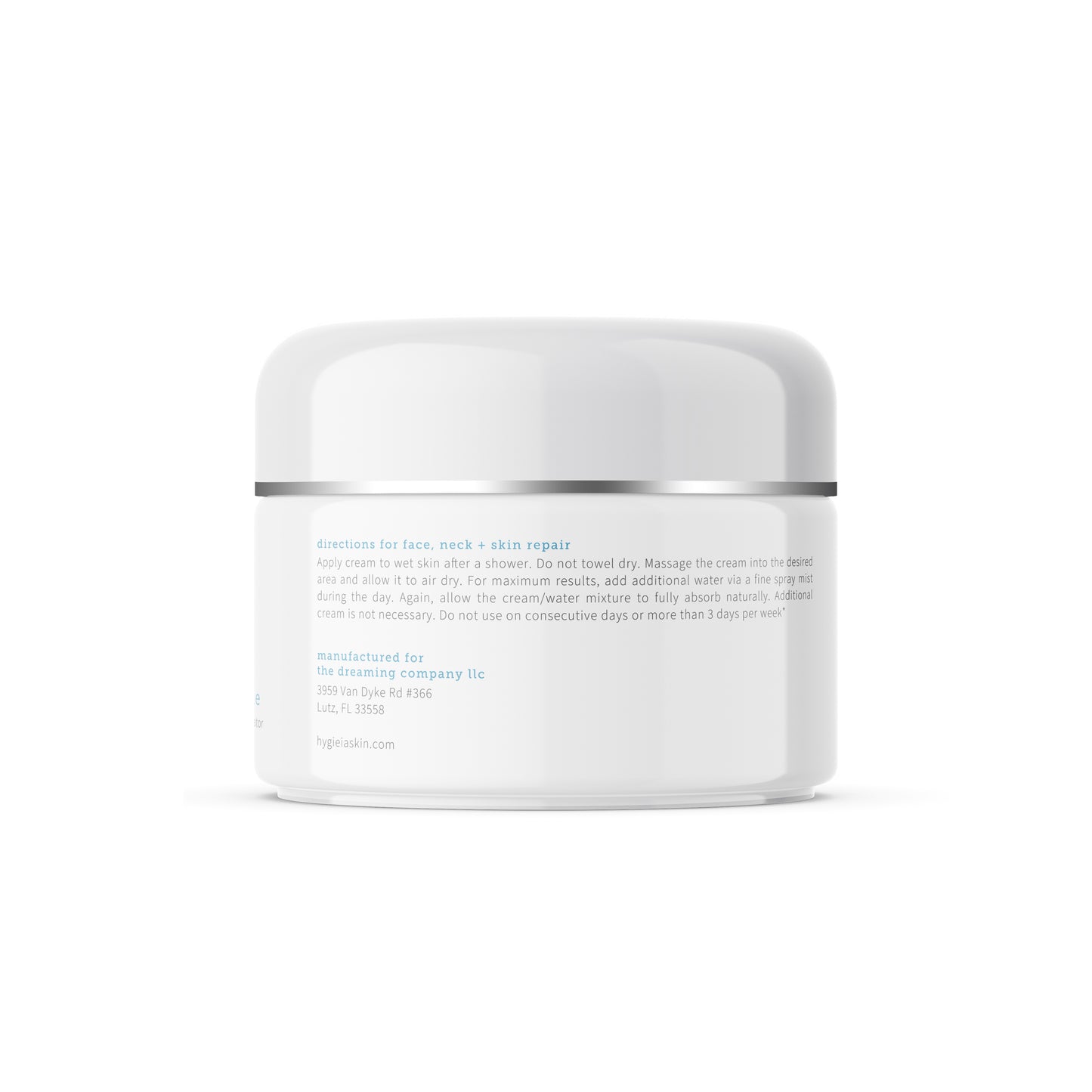 60-Day Money Back Guarantee
60 Day Money Back Guarantee:

We know you'll love our creams as much as we do. In fact, if for any reason you're not completely satisfied, just return them, even empty, within 60 days of your first order, and we'll issue a full refund.

What should you expect in 60 days?

Certainly not a miracle. Be realistic in your expectations and judge our cream and your progress fairly. The amount of time our creams take to be effective varies for everyone, there are far too many factors to predict an outcome or a timeline.
A good thing to do is take a picture of your skin the day you get your cream, for your own records, so that in 60 days you can compare the progress > keep in mind you see yourself everyday in the mirror, sometimes smaller changes may go unnoticed for that reason.
The one common denominator among the customers who see the most success with our creams, is that they give them time to work. 
Most of our creams are Liposomal, meaning they work from the inside out at the cellular level to effect change. This is not always a fast process, nor is it always quickly visible, since its working from the inside out.
We have seen the creams be effective over and over and changed countless numbers of people's lives by helping provide them the confidence that comes from showing off their beautiful skin. We're confident if you stick with us, and use the creams as directed you too can experience the results you're after.
Made In The USA 🇺🇸

Our lab is located in Southern California and our warehouse network stretches nationwide. We love America.

Paraben Free 🧪

We take careful care to be sure that no harmful parabens end up in our creams. Quality is our top priority.

Cruelty Free 🐰

We never have, nor will we even talk to anyone who has tested their products on helpless animals.
1% Encapsulated Idebenone
What is this product?

Mitochondria booster: Idebenone, a synthetic analog of Coenzyme Q10, is a potent antioxidant that jumpstarts your mitochondria. 

A study in the Journal of Cosmetic Dermatology found that after 6 weeks of using 1% idebenone cream twice daily, women experienced: 

26% reduction in skin roughness and dryness37% improvement in skin hydration29% reduction in fine lines and wrinkles33% improvement in sun-damaged skinReduction in markers of skin inflammation and damage

Anti-aging building blocks: Hyaluronic acid and collagen are powerful anti-aging building blocks for your skin. Hyaluronic acid holds up to 1,000 times its weight in water, so it increases your skin's water retention and reduces wrinkles. Collagen helps strengthen the skin's elasticity and improves hydration. 

Cellular orchestrators: Retinol and glycolic acid help activate the rejuvenating genes that boost collagen production.

Antioxidants: Idebenone, vitamin E, alpha lipoic acid, and grapefruit seed extract help neutralize oxidative stress and protect your skin from day to day exposure. 

These powerful anti-aging molecules are mostly large or water-soluble molecules, which don't enter the skin cells well on their own. Our Liposomal delivery system delivers these large and water-soluble molecules into your skin cells and mitochondria. Glycolic acid also helps loosen up the dead cells in the stratum corneum, allowing the other ingredients to reach the deeper skin layers. Because the delivery system is so effective, you will need much less product to be effective.
How to use this cream

How to apply this cream: Apply a thin layer of the cream to wet skin, the cream is bright orange and you do not want it to touch your clothes. After applying, you MUST allow 2 to 3 min for this cream to absorb, it is Liposomal so its bonding to every layer of skin on its way to your cellular structure.

After 2 or 3 mins, enter the shower and wash away any residue if any. If you allow it a min to absorb, then keep rubbing it will fully rub in.

Do not use consecutive days or more than 3 days per week & not on consecutive days. This cream is very powerful and takes 24 hours or more to fully metabolize, less is more. The results will literally shock you in a very short period of time!
What are Liposomes?

Typically, your cell membranes will only allow fat-soluble nutrients through the cells, unless it's a molecule that your cell recognizes and has specific transporters to take them inside. Liposomes can merge with your cell membranes and bring almost any molecule to enter your cells and penetrate the skin layers. 

Your skin also has a keratinous layer called the stratum corneum. This keratin, the material that strengthens your nails and makes them waterproof, is permeable to very few things. The liposomal delivery system helps transport our powerful anti-aging ingredients past the stratum corneum.

Watch the video below for more visual explanation. This is what separates our cream from every other popular topical cream.
Pub Med Studies

1. After six weeks' use of a 1.0% idebenone formula, a 26% reduction in skin roughness/dryness was observed, a 37% increase in skin hydration, a 29% reduction in fine lines/wrinkles, and a 33% improvement in overall global assessment of photodamaged skin. For the 0.5% idebenone formulation, a 23% reduction in skin roughness/dryness was observed, a 37% increase in skin hydration, a 27% reduction in fine lines/wrinkles, and a 30% improvement in overall global assessment of photodamaged skin. (1)

2. Idebenone is one of the strongest brain, heart, lungs, liver, eyes and skin antioxidants on the market, stronger and more penetrating than vitamin E, vitamin C and CoQ10Idebenone repair cream's liposomal delivery protects all three layers of skin against environmental and smoke damage (2)Penetrates deeply and quickly into the skin for photo-protective against Ultraviolet-B (UVB) oxidative stress (3) 3. Idebenone is so powerful it has been used to transport organs for replacement procedures (4)4. Idebenone and hyaluronic acid synergize Hydrate, moisturize, and firm loose skin. Excellent for sensitive skin. Idebenone has long been known in the pharmaceutical field but only recently became known in the skincare field. (5)Idebenone antioxidant mitigates free radicals in mature, desiccated, sun-spotted skin as it addresses exhausted brain cell mitochondria. (6) SOURCES:1. Clinical efficacy assessment in photodamaged skin of 0.5% and 1.0% idebenone.2. Differential Scanning Calorimetry Analyses of Idebenone-Loaded Solid Lipid3. Cellular interactions and photoprotective effects of idebenone-loaded nanostructured lipid4. QSA 10 (idebenone) or prozbuco supplementation of organ preservation5. A new minimally invasive mesotherapy technique for facial rejuvenation.6. Mitochondrial biogenesis and neural differentiation of human iPSC is modulated by idebenone
How long does one jar last?

Each jar is 2oz, which is enough for an area the size of your face for one month. IF you used it everyday, which YOU SHOULD NOT.

The cream is thin and spreads easily.

Because of its Liposomal nature, you do not need to apply as much as you would with a topical cream.
90 Day Money Back Guarantee

We beleive in our products and their quality. We stand behind them with an unconditional 90 day money back guarantee.
Customer Reviews
05/31/2022
Loren

United States
I recommend this product
I think it works.
Been using it for 6 months now, it is a nice addition to my normal routine, my face is looking much younger
04/21/2022
Anonymous

Canada
I recommend this product
Love this product
Does everything it claims. Just started using this product and can see results.
04/19/2022
Kim

Australia
I recommend this product
Idebenone cream
This is one of my favorite creams, very hard to find and often sold out. I look years younger because of it!
03/04/2022
Martin

United States
I recommend this product
Mitochondrial Rejuvenator+ review
Too early to tell-but hopeful. 2nd week of application. No adverse reaction (ie, rash), as with some other products.
11/17/2021
Anonymous

United States
I recommend this product
1% Liposomal Idebenone Firming Cream
Excellent great product