Regular price
CHF 45.00
Sale price
CHF 36.00
Unit price
per
Sale
Sold out
Share
This advanced & powerful encapsulated Retinol cream is designed to help prevent premature signs of aging.
View full details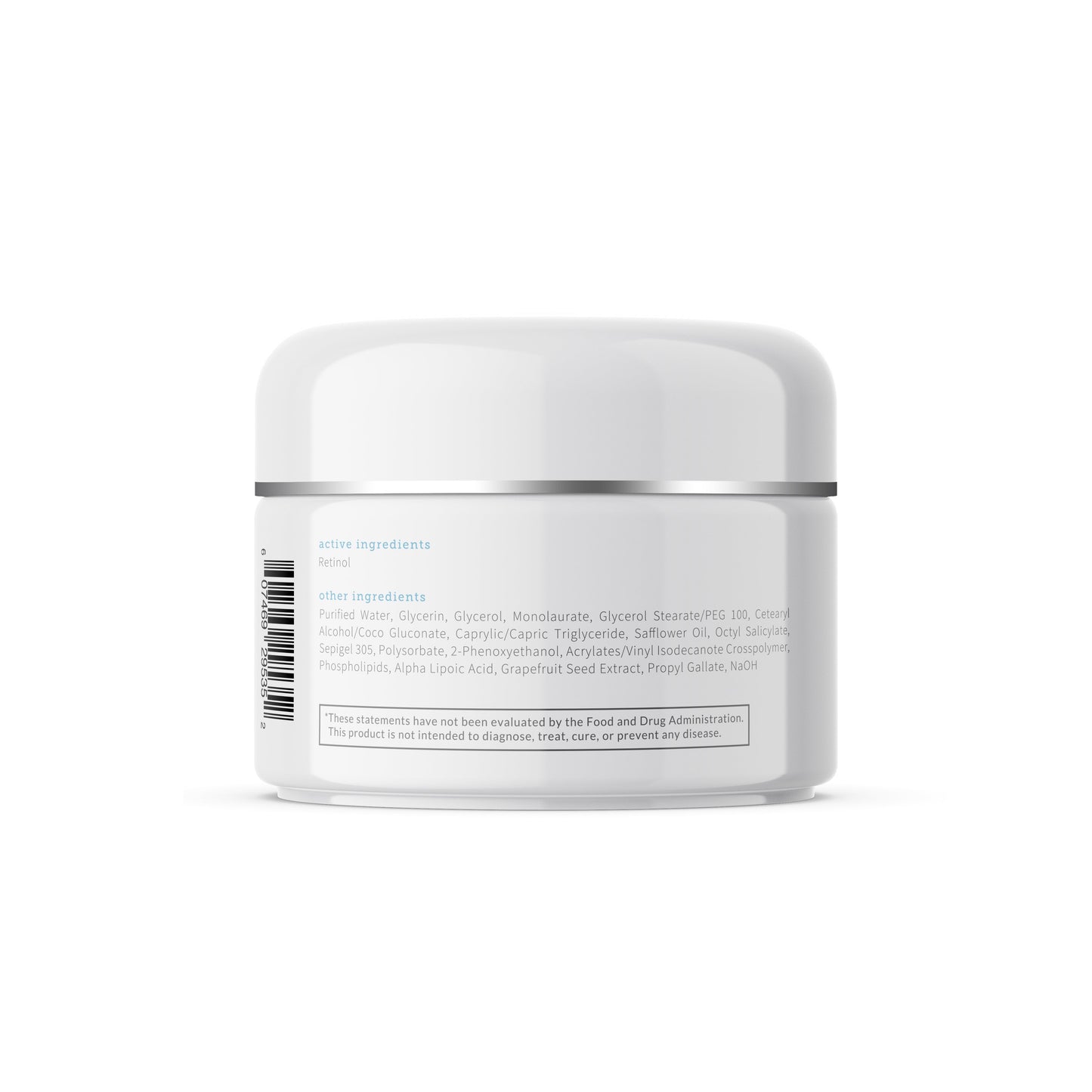 Made In The USA 🇺🇸

Our lab is located in Southern California and our warehouse network stretches nationwide. We love America.

Paraben Free 🧪

We take careful care to be sure that no harmful parabens end up in our creams. Quality is our top priority.

Cruelty Free 🐰

We never have, nor will we even talk to anyone who has tested their products on helpless animals.
Here is some info to consider:
What is this product?

Retinoids reduce fine lines and wrinkles by increasing the production of collagen.

They also stimulate the production of new blood vessels in the skin, which improves skin color. Additional benefits include fading age spots and softening rough patches of skin.
What are Liposomes?

Typically, your cell membranes will only allow fat-soluble nutrients through the cells, unless it's a molecule that your cell recognizes and has specific transporters to take them inside. Liposomes can merge with your cell membranes and bring almost any molecule to enter your cells and penetrate the skin layers. 

Your skin also has a keratinous layer called the stratum corneum. This keratin, the material that strengthens your nails and makes them waterproof, is permeable to very few things. The liposomal delivery system helps transport our powerful anti-aging ingredients past the stratum corneum.
Which strength is right for me?

Many dermatologists suggest that you begin using a daily Retinol product in your mid 30's as a preventitive measure against premature aging.

The .5% formultation is usually plenty for beginners, keep in mind that our formula is Liposomal which means its more impactful that a topical cream since it fully absorbs to every layer of skin.

The 1% formulation is for people who want to be more aggresive in their routine and perhaps began this routine a little later in life.

The 2% formula is designed for repair situations where you want to aggressivley work to firm and smoothe skin.
How long does one jar last?

Each jar is 2oz, which is enough for an area the size of your face for one month.

The cream is thin and spreads easily.

Because of its Liposomal nature, you do not need to apply as much as you would with a topical cream.
60 Day Money Back Guarantee

We believe in our products and their quality. We stand behind them with an unconditional 60 day money back guarantee.